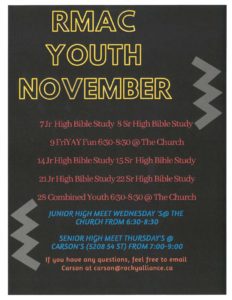 Rocky Alliance Jr. Youth Group
(Grades 6 – 8)
Wednesdays, 6:30 pm – 8:30 pm
Rocky Alliance Church
5304 – 57 Street
Contact Carson: 403-845-2610
Come out for a night of games, food, and best of all, learning about this awesome God we serve and how He changes how we live! See you there!
Rocky Alliance Sr. Youth Group
(Grades 9 – 12)
Thursdays, 7 pm – 9 pm
Carson & Teanna's Home
5208 – 54 Street
Contact Carson: 403-845-2610
Come out for a night of making friends, delicious snacks and learning about our amazing God!
Below is an Authorization Form for those that wish to attend.